Medan, the capital of North Sumatra, Indonesia, is the main gateway for tourists to visit places and attractions such as Bukit Lawang, Lake Toba, Berastagi, and Parapat. Many visitors are actually overlooking Medan city itself as a place of interest. This is such a shame! There are actually quite a number of must-see, top attractions in Medan that are definitely worth a visit!
Here are the 11 top and must-see attractions in Medan, Indonesia:
1. Maimoon Palace
As one of the most-visited attractions in Medan, Maimoon Palace (Istana Maimun) is the former royal palace of the Sultanate of Deli. Today, the palace is a museum with the throne room being the only room that's opened and accessible to the public. On weekends, visitors could enjoy traditional live music and performance, and have the opportunity to wear some traditional costumes.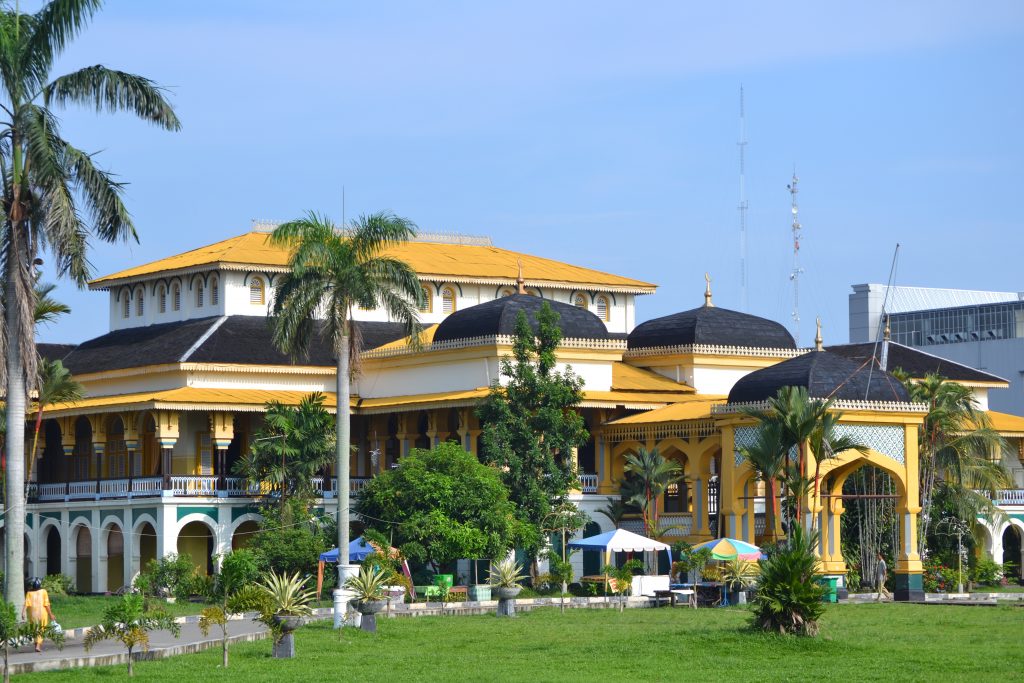 2. Merdeka Walk
Merdeka Walk is a large outdoor compound in the heart of Medan that houses a variety of food outlets offering a wide range of cuisines: Indonesian, Chinese, Indian, and Western. Besides food and drinks, you will also find live music, performances, and other types of entertainment here.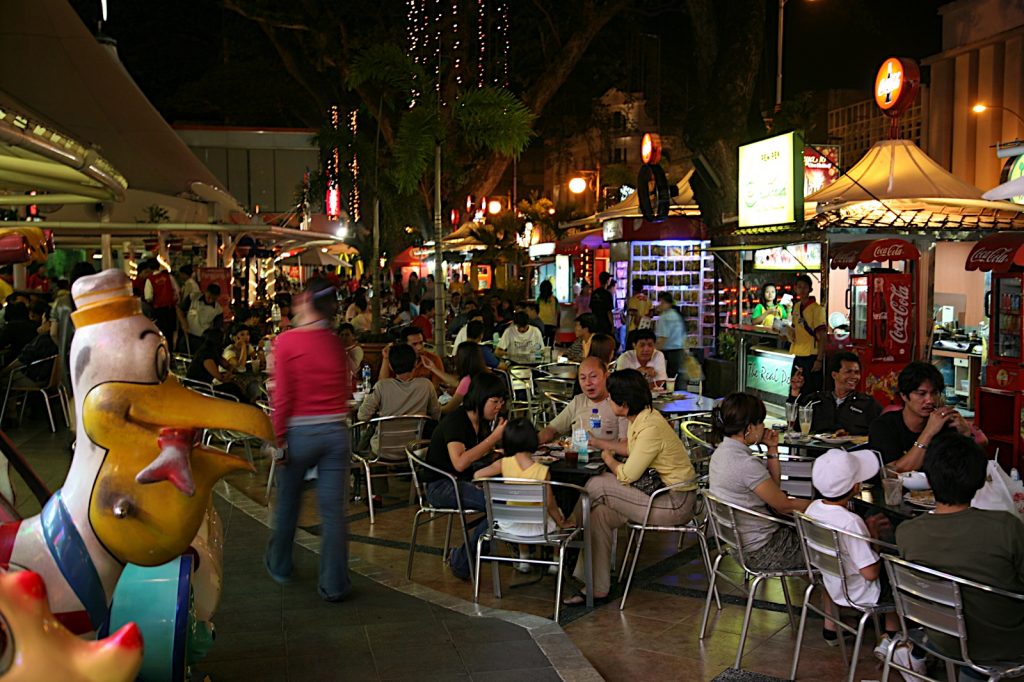 3. Great Mosque of Medan
Regardless of your faith and religion, The Great Mosque of Medan is one the must-visit attractions in Medan. Referred by the locals as Masjid Raya Al Mashun, this is the main mosque and one of the largest ones in Medan. It has mesmerizing architecture and decorations; exquisite marble, stained glass windows, gorgeous domes, immaculate tiles. To visit the mosque, ensure that you dress appropriately & respectfully and avoid prayer times (for Non-Muslims).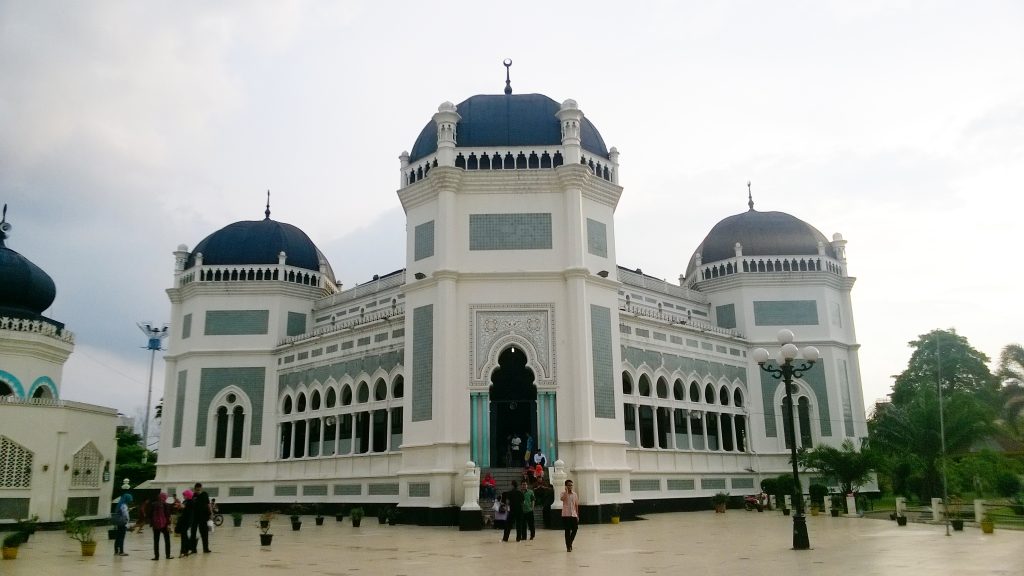 4. North Sumatra Museum
If you want to go back in time and learn a little more about the history of North Sumatra, this museum is the best place to go. You will find galleries and collections of past North Sumatran, Hindu, Buddhist, Islamic, and Dutch colonial communities. There are also historical items such as weapons, scriptures, textiles, and many worship artefacts.
5. Kampung Keling & Sri Mariamman Temple
If you go to Kampung Keling, you will get an unusual look at Medan. This is the main area for the large Tamil community in Medan. Kampung Keling is so authentic that you will be forgiven if you were to momentarily think that you're in India. The main attraction in Kampung Keling is the Sri Mariamman Temple that was built in 1880s.
6. Medan Post Office
Opened in 1911, Medan Post Office is one of the oldest and most recognizable buildings in Medan. Built by the Dutch during the colonial period, it was designed in the typical colonial style. Today it still functions as a post office with a section exhibiting wonderful stamp collections.
7. Graha Maria Annai Velangkanni
Graha Maria Annai Velangkanni, which means 'Our Lady of Good Health Church', is a relatively new 'baby' to the city as it was opened to the public only in 2005. Despite its unique resemblance to multiple architectures such as a Buddhist temple, a Hindu temple, and even a Chinese palace, this intricate and beautiful building is actually a Catholic church.
8. Rahmat International Wildlife Museum & Gallery
Rahmat International Wildlife Museum & Gallery is a natural history museum that displays taxidermy collections of wildlife. Taxidermy is the process of animal preservation with stuffing and then displaying them in lifelike positions. If you are a flora and fauna lover, this is the place to go in Medan city!
9. Vihara Maha Maitreya
Many people do not realise that Medan has a large Buddhist population. The Vihara Maha Maitreya plays a very important role for this Buddhist community. For visitors, you can take an internal tour of the building as well as wander around the scenic exterior grounds. If you happen to visit at lunchtime, be sure to visit the canteen that serves delicious vegetarian buffet.
10. Tjong A Fie Mansion
Tjong A Fie's Mansion is a historical landmark with both Chinese and Malay design influences. When you're there, you'll have the opportunity to take a tour of the mansion with one of the on-site guides. The tour would offer you a great insight on the prominent and affluent people lived in Medan during the early 20th century. Some well-travelled visitors could notice the similarity between this mansion and the Cheong Fatt Tze Mansion in Penang. They are both relatives who decided to build two very similar houses in two different places!
11. Tip Top Restaurant
If you are planning to visit Tjong A Fie Mansion, then you should also conveniently visit Tip Top Restaurant which is right across the street. Not only you can fill your stomach in this legendary restaurant, but also to take 'Instagrammable' photos, and learn about history. With a distinctive colonial achitecture that dated back from 1934, you could experience the ambience of eating in a medan restaurant 80 years ago.
Most travellers these days have more than enough experience packing for all sorts of holidays: long, short, beach, trekking or any other kind. Nevertheless, it doesn't hurt to learn more holiday packing tips & tricks to save us more time, money and even some trouble. Our holiday packing tips to Lake Toba can also be…
Read More
Medan Tour Package Price from S$ 275 / RM 695 per person
By far our most popular medan package. Visit, the renown Lake Toba and explore the interesting Ambarita Village where you can learn about the history and culture of the Batak people.
Read More