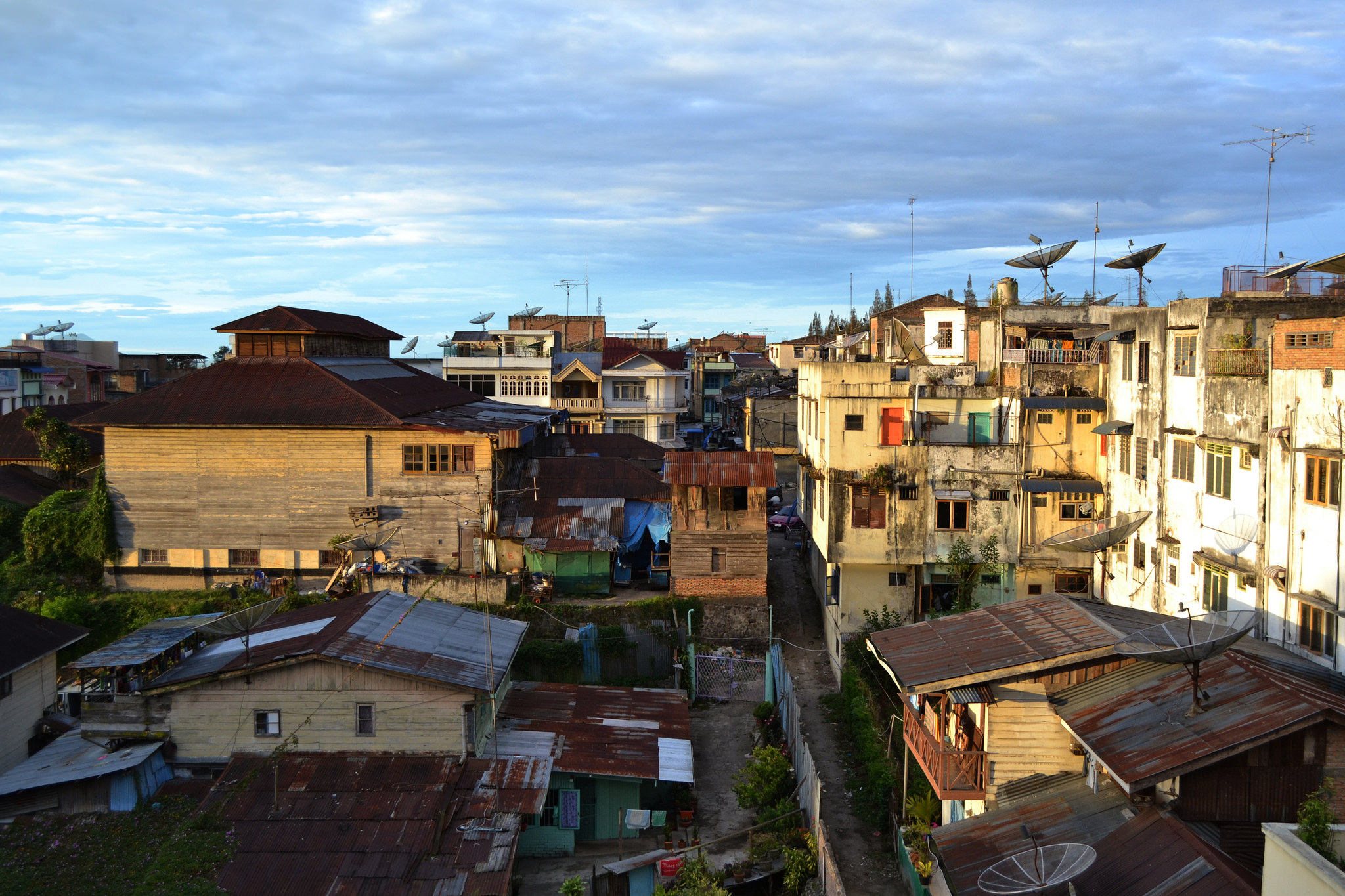 Image Credit: Flickr | Victor Ulijn
Before we list the attractions and places to visit in Berastagi, let's talk about this town a little more.
Berastagi, fondly pronounced as Brastagi, is a small town in Karo Regency district in North Sumatra, Indonesia. Located within the Barisan Mountains area with an altitude of more than 1200m above sea level, it's blessed with a cool climate of around 18 degrees Celsius.
Due to its proximity to Medan city (only 70km away), this town is a must-visit for domestic and international tourists on their way to or from Lake Toba.
Although there may not be too many attractions and places to visit in Berastagi town itself (besides Berastagi Fruit Market), there are plenty around the town's vicinity.
Image Credit: Travvelsized.wordpress.com
Berastagi Fruit Market
One of the main points of interest in Berastagi town, the Berastagi Fruit Market sells fresh and succulent fruits such as passion fruits, avocados, mangos, and many more. It also sells flowers, souvenirs, and extremely cheap clothing.  The best part about this market is its huge size and the wide range of choices.
All our Medan & Lake Toba tour packages include a visit to this wonderful market. This is definitely one of the places to visit in Berastagi and shopping in this market has got to be one of the things to do in Berastagi.
Book our private and exclusive 3-Day Medan Berastagi Tour package
Image Credit: By Kenrick95 | Wikimedia Commons
Mount Sinabung (Gunung Sinabung)
Located 25 miles from Lake Toba, Mount Sinabung is one of Indonesia's most active volcanoes. Standing at 2460 metres, Mount Sinabung has seen quite a number of eruptions for the past 10 years after being dormant for the previous 400 years. Hiking and going to this mountain is one of the attractions in Berastagi!
It may not be as tall and as renowned as the one called 'Mount Everest', but it certainly offers a different kind of scenery and appeal: a lot greener and closer to rural living.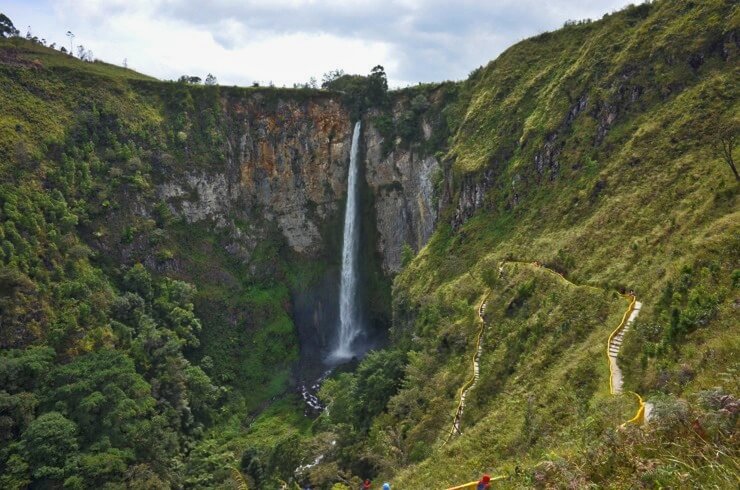 Image Credit: Anepiceducation.com
Sipiso-piso Waterfall
The Sipisopiso, at 120 metres, is one of the highest waterfalls in Indonesia. Located on the northernmost tip of Lake Toba caldera, it's near Tongging fishing village and 25km away from Kabanjahe town. This force of nature is 45-minute drive away from Berastagi.
You can have a magnificent view the waterfall from the many food stands that are around the area. The Sipiso-piso Waterfall is one of the main attractions for tourists visiting Medan, Lake Toba, Berastagi, and its surrounding.
Almost all our Medan & Lake Toba tour packages include a visit to this glorious spot. This is definitely one of the places to visit in Berastagi.
Book our private & exclusive 4-Day Medan Berastagi Tour Package.
Image Credit: Sibayakaltituderun.com
Mount Sibayak (Gunung Sibayak)
Unlike Mount Sinabung, Mount Sibayak last had its eruption more than 100 years ago. Although it stands stall at 2094 metres, it's relatively easy to climb and is one of Indonesia's most accessible mountains. A two-way climb can be completed in 5 hours. This climb could just be one of the things to do in Berastagi for you!
Image Credit: Vhhalym.blogspot.sg
Lumbini Natural Park
Also known locally as Taman Alam Lumbini, the main feature here is the Buddhist temple. It is essentially a replica of the Shwedagon Pagoda in Yangon, Myanmar. Completed on 2010, the beautiful gardens and strawberry fields surrounding it also add on to the marvellous experience of visiting this compound.
Almost all our Medan & Lake Toba tour packages include a visit to the Lumbini Natural Park. This is therefore one of the attractions and places to visit in Berastagi.
Just like the climate in Singapore and Malaysia, North Sumatra and Parapat in particular, experiences its dry season from April to November. It's recommended to go to Parapat and Lake Toba during this dry season as dark clouds, fogs, and rain might obstruct the wonderful view of Lake Toba during the rainy season.
If you're looking to experience a unique local celebration, you could plan your trip around the months of June and July. This is the period where they'd hold their annual Lake Toba Festival.
Image Credit: Flickr | Ken Marshall
Although you could get to Berastagi by taking a bus or taxi from Kuala Namu International Airport or Medan city, it's not recommended. It will be difficult for visitors to get around Berastagi and return back to Medan due to the lack of taxi & public transportation in the small town. Here are the various modes of transportation to Berastagi:
1. If you have the luxury of time and would like to experience local public transportation of the lowest cost, you could first take a bus from Kuala Namu International Airport to Medan. Once you reach Medan city, make your way to Sutra Bus Station in Padang Bulan and take a traditional local bus that departs for Berastagi every 30 minutes (between 6 am to 8 pm) at around Rp 20,000 per person (US$ 10- 15). The journey from Medan to Berastagi would last around 3 – 4 hours.
2. For a more comfortable transportation, upon arrival at Kuala Namu International Airport, take a taxi to Medan city. It should cost you around Rp 200,000 (US$ 15). Once you're in Medan city, get a private rental car with driver that could take you to Berastagi and back. The journey from Medan to Berastagi should take you approximately 2 hours.
3. It would be even better for you to book the private vehicle with driver for you and your loved ones before your arrival in Medan. This way, you'd save time and do away with the hassle of a last-minute search for a reliable transport provider. With the private vehicle, you could even visit other destinations such as Parapat and Bukit Lawang for an extended 3 to 4-day trip.
Book our private vehicle with driver (including fuel) to go to Berastagi and back.
4. As a visitor to Medan, it would almost be a certainty that you'd like to go to the great Lake Toba. If you intend to visit other places in and around Medan besides Berastagi, you should get our full-fledged private tour service that brings you to Parapat (Lake Toba), Samosir Island, Simarjarunjung, Sipiso-Piso Waterfall, and a complete tour of Medan city. We will do the itinerary planning, hotel booking in all the places you're going to visit, as well as the best local restaurants to dine in.
       Book our special 4-Day Medan Berastagi + Taman Simalem Tour Package.